Julie Thorsheim, ACSW, of KST Associates, has presented at professional conferences in Minnesota, other states, and national NASW conferences illustrating how figure placements techniques such as the KST offers additional resources that can be integrated into family systems assessments in a wide range of settings.
Following one such Clinical Training Seminar, Dr. Wayne Ehrisman, Chief Psychologist, wrote Thorsheim saying, "I wanted to let you know how much I enjoyed your presentation on the Kvebaek Family Sculpting Technique at Southwest Mental Health Center two weeks ago.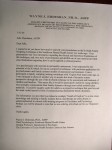 Your presentation was very informative regarding the clinical and theoretical foundations of this technique, and your style of presentation and skillful use of case material provided clear illustrations regarding how it can be applied in clinical practice." He called the presentation "a breath of fresh air." From his perspective as a clinical professor in the Department of Psychiatry at The University of Texas Health Science Center at San Antonio, he wrote of the importance of renewing an emphasis on knowledge and training in family systems theory and therapy in current child training programs in departments of Psychology and Psychiatry.  To read Dr. Ehrisman's letter, click on image.
Following a family sculpting workshop at a state conference, a clinical social worker wrote
"I continue to use the KST tool regularly. I used it this week with a family and each of them showed who is in the family and what the family is like from their perspective. Parents cried when the nine year old showed his perspective. Parents immediately got insights … Everyone's much more involved in the process from the beginning than with traditional talk therapy … I'm a happy KST fan!"
Although Thorsheim is no longer working as a clinician, she continues to share examples from her prior practice and that of other professionals in incorporating representational family sculpting and other interactive techniques in social work broadly and in both the public and private sector in mental health, substance abuse, and in educational settings. Contact us to explore possibilities.