June 16, 2009 a workshop focused on Family Sculpting took place at St. Olaf College, Northfield, Minnesota. Presenters were: Dr. Anne Hollingworth, psychologist in private practice in Sydney, Australia; Thomas Thorsheim, Ph.D. psychologist in private practice in Greenville, South Carolina; Jean Giebenhain, Ph.D., full professor, University of St. Thomas in St. Paul, MN, and Julie Thorsheim, MSW, of KST Associates. Moderator was Mary Carlson, Chair, Dept. of Social Work and Family Studies at St. Olaf College. This Continuing Education event was co-sponsored by NASW, Minnesota Chapter, and the St. Olaf College Department of Social Work and Family Studies, and was funded in part by the David and Karen Olson Marriage and Family Endowment at St. Olaf College.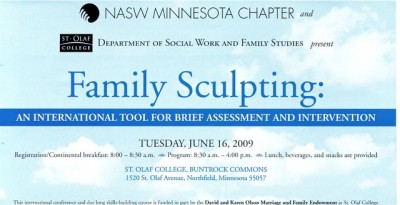 Hollingworth showed how she uses the Kvebaek Sculpture Tool to incorporate " the child's voice" in her reports to Family Court when retained to assess parenting capacity and children's family attachments for the purpose of making placement decisions about at-risk children. Julie Thorsheim provided historical and theoretical framework of the Kvebæk Family Sculpture and showed participants how to begin incorporating this technique into their practice in a variety of settings. Giebenhain provided insight into the way she uses the KST in research and clinical practice with multi-cultural adoptive families. Thomas Thorsheim provided examples of how he uses this figure placement tool in assessment and therapy with both individuals and families.
This skills-building workshop incorporated demonstration, case examples, panel presentation and small group activities to equip participants to use representational family sculpting in their own work. Participants' evaluations of this full-day experiential workshop were enthusiastic and strong. Look for glimpses of presenters and participants on pages of this website.